Brand Smit writes, and teaches English.
---
Born in Pretoria in 1971, Brand traversed South Africa with his family for the next 15 years. He graduated from high school in 1989, as fate would have it, back in Pretoria.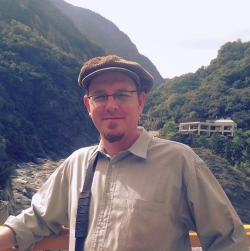 He then continued his training for life as a productive adult at the University of Pretoria, before heading south a year later.
After five years of learning and thinking he followed the only path that seemed reasonable after thinking about it. Two years in South Korea had him yearning for the country of his birth. He returned, worked in Johannesburg for six months, and then left again – this time for the shores of a beautiful island called Taiwan.
______________________
Brand Smit skryf, en gee Engelse klasse.
---
Na sy geboorte op 'n wintersnag in Pretoria in 1971, reis Brand saam met sy familie deur Suid-Afrika vir die grootste deel van die volgende 15 jaar. Soos die noodlot dit wou hê eindig hy weer op in Pretoria, waar hy matrikuleer in 1989.
Na matriek betree hy die Universiteit van Pretoria waar hy voortgaan met die nodige opleiding om sy lewe te kan slyt as 'n produktiewe volwasse. 'n Jaar later vertrek hy Kaap toe.
Na vyf jaar van leer om te dink volg hy die enigste pad wat redelik blyk te wees na hy daaraan gedink het. Twee jaar in Suid-Korea maak hom entoesiasties om die res van sy lewe in die land van sy geboorte te spandeer. Na ses maande se werk in Johannesburg verlaat hy egter weer sy geboorteland – dié keer vir 'n stad in die suide van 'n mooi eiland genaamd Taiwan.
______________________